The pocket watch, in the hand of 19th a century oriental used to help him reach places on time but his copy of Arabian Nights took him places where his watch (or horse) couldn't help him reach. The watch was a gadget periodically reminding  him that time is linear and life has limits but by reading Ali Baba he could fly on a carpet to unseen cities of the past or future. Sadly, no matter how far he could fly, he always knew it was not for real and there always was a clear distinction between his reality and fantasy.
What if, our oriental comes to know today (if he is resurrected) that a machine has been invented which can possibly make a flying carpet as real as his pocket watch? Wouldn't his definition of reality be seriously tested?
And what is reality? Wasn't Morpheus telling the truth when he asked Neo?
"And what is real? How do you define 'real'? If you're talking about what you can feel, what you can smell, what you can taste and see, then 'real' is simply electrical signals interpreted by your brain. Have you ever had a dream, Neo, that you were so sure was real? What if you were unable to wake from that dream? How would you know the difference between the dream world and the real world?"
Virtual reality (VR) is a silent supernova in the universe of innovation, which has given birth to myriads of possibilities. The reality created by this technology is stranger than fiction and can flabbergast a Silicon Valley techy as much as an innocent peasant. VR typically refers to "computer technologies that use software to generate realistic images, sounds and other sensations that replicate a real environment (or create an imaginary setting), and simulate a user's physical presence in this environment, by enabling the user to interact with this space and any objects depicted therein using specialized display screens or projectors and other devices."
Although the first references to the concept of virtual reality came from Stanley G. Weinbaum's 1935 short story "Pygmalion's Spectacles" in which he gave an idea of a goggle-based virtual reality system with holographic recording of fictional experiences, including smell and touch, but he himself would have been sceptic about realization of that visionary idea. But technology of 21st century and particularly last 10 years, have already taken us further from the point where Stanley's imagination ended.
Every major player in IT business is aggressively putting resources into development of VR headset devices knowing that this is THE future, not of technology but of human experience & existence. Oculus Rift, PlayStation VR, Samsung Gear VR, Google Daydream View, Microsoft HoloLens, Razer OSVR HDK 2 and the HTC Vive have finally taken the virtual reality mainstream. From games to movies, historical sites to art galleries, concerts to theme parks, movies to sports viewing, education to training and retail to charity, everything is being shifted to VR enabling us to view content not as a passive viewer but an active part.
Incase VR content, no matter how good the graphics are, is a bit too fanciful for someone who only believes in realism, there is Augmented Reality (AR). Defined as "direct or indirect view of a physical, real-world environment whose elements are augmented (or supplemented) by computer-generated sensory input such as sound, video, graphics or GPS data". Although the technology is a bit old but it was introduced to the mainstream by a peculiar game called Pokemon Go. It took millions around the world to the streets overnight, including myself, to catch augmented animated characters running around the city. Here is one caught by me inside the car while on the road:
The market for VR/AR related business is so huge that there are already many successful international startups making huge impact and ofcourse, money. Below are 10 most exciting AR/VR startups as per the list created by On The Grid Now
| | | | |
| --- | --- | --- | --- |
| Name | Location | Funding | Description  |
| Altspace | Redwood, CA | $15.7 M | Platform to hang out with friend and loved ones in virtual space |
| Prizmiq | Seattle, WA | $540 K | Enables home shopping by creating photorealistic, 3D models of products |
| Magic leap | Dania, FL | $1.39 B | A platform enabling users to interact with VR objects in cinematic way |
| Avr | Istanbul, Turkey | Undisclosed | Creating AR&VR based theme parks and gaming experiences  of tomorrow  by wireless sensors and motion capture |
| Puscope | Paris, France | Seed Phase | Making History museum with mixed reality exhibitions |
| Nextar | Laguna Beach, CA | $115.5 M | Enabling transmission of live VR content like concerts, sports events and even the experience of walking the red carpet |
| Worldviz | Santa Barbra, CA | $3.5 M | Enables walking around the living room of your new home before you remodel it or experience an office space before its built |
| Atheer | Mountain View, CA | $23.06 M | Its AR toolsets like checklists and data readouts that help provide deskless workers like surgeons with more information in the field |
| Jaunt | Pala Alto, CA | $100.2 M | Jaunt is positioning itself to be Netflix of cinematic VR experiences |
| Surreal | New York, NY | $150 K | Surreal is building on the momentum of the games like Second Life by creating  a virtual interactive space that just might be where we all are hanging out in future |
While reading the description part of the table above, one gets really excited to see the kind of areas AR VR/ related technology is impacting. But a look at the 2nd column might disappoint one, especially a patriotic one, which shows that eight of these startups are based in America, one in Turkey, one in France and none in Pakistan. Digi-Capital recently published that global revenue related to Augmented/Virtual has the potential to reach $120 billion by 2020.
So, are we as a country ready to fetch a good share out of this pie or the picture for AR VR/ related startups in Pakistan and demand for VR/VR based technologies, is as bleak as suggested by the list of Startups shared above?
The answer to this question is no, a cautious no!!!
In Lahore, just in front of the Fortress Square Mall, a cool new place called Transfinity is catching attention of children, teenagers and adults alike. They claim to be the first VR based gaming zone of Pakistan and with their HTC Vive Headsets, stylish VR cabins, LCD screens for spectators and quite a few games to choose from, they are redefining the gaming experience in the country. For just Rs. 600 one can get inside an underground rail track full of zombies, go for mountain ice skating or even try a suicide by jumping from a 1000 feet high building. A single session in one of those cabins showed me the power of the VR experience when I was unable to jump from a 2 inch high plank just because the Vive headset on my eyes successfully made my brain believe that I was jumping from a 100 story high building. While talking to the manager I came to know that they are opening another of their facilities in Lahore and one in Islamabad due to the unexpected and overwhelming demand.
This demand of VR/AR related technology is pivotal to make international players interested in investing in our country but in order for us to make a meaningful impact internationally, we need to do lot more. Good thing is, we are making progress in the right direction.
Wondertree, a Pakistani startup, created quite a buzz by winning a few local and international competitions and was also featured on Forbes and Techinasia. Incubated through the Nest/I/O, their team has developed a gaming platform that promotes learning and therapy through games. The games are for kids with differing needs with ages of 5 and up, with easy to personalize content for a kid's varying needs. The platform has learning content and therapeutic exercises in form of games. These games use AR technology which makes it efficient yet cost effective. Also they are easy to download and play and come with a reporting system. Every time a kid plays the game the system measures the performance and issues a detailed report for it.
Haptika also incubated at The Nest I/O, is providing wearable haptic feedback suits with temperature sensation and even motion capturing ability for a highly immersive experience. Haptika is aiming to go beyond the world of gaming and introduce simulation with haptics in a more diverse range of applications. For example, in para military force training, military cadets can receive accurate and specialized training using virtual reality before actually going into the field. Similarly, medical students can also practice surgery or carry out operations using virtual reality through Haptika, increasing the success rate of operations and reduce risks of practicing on real patients. Additionally, they are also looking into the product's potential in helping special children learn different skills.
Retina VR, a yet another startup of The Nest I/O is bringing change in Real Estate market by introducing virtual reality tours which allow people to search properties anytime without stepping out of their home. Retina VR can provide a number of benefits to architects and their clients. During the design process, architects can use VR to experience the designs they are working on before they are built. Seeing a design in VR can give architect a correct sense of scale and proportion. Having an interactive VR model also eliminates the need to make physical miniatures to demonstrate a design to clients or the public. Later on, after a building is constructed, developers and owners can create a VR model of a space that allows potential buyers or tenants to tour a space in VR, even if real-life circumstances make a physical tour unfeasible.
These few success stories are testament to the fact that if provided with right kind of guidance and support, we have enough talent in the country to embark upon this phenomenal journey of creating good tech startups which can potentially become forerunners of VR/AR based technology development. However, no matter how good job local incubators like Nest I/O, Plan 9 or LUMS Center for Entrepreneurship are doing, a focused effort from Federal Government is needed to uplift and accelerate this process of growth. There is good news in this regard as well.
National ICT R&D Fund, NIRF, a company formed by Ministry of Information Technology is committed towards creating knowledge based economy in the country by funding cutting edge research and development in field of ICT and tech startups. In FY 2015-16, the company through its program called "National Grassroots ICT Research Initiatives' or NGRI, funded half a dozen small Final Year Projects coming from students of different universities in the field of Virtual Reality. In FY 2016-17, more Final Year Projects pertaining to AR/VR will be funded and then ones with good potential for commercialization will be facilitated further for possible induction in "National Incubation Center", which is a NIRF's funded initiative being executed by Mobilink & Teamup, with total budget of Rs. 564 Million.  Apart from small FYPs, NIRF has aggressive plans to fund AR/VR based R&D Projects & startups. In FY 2016-17 NIRF has already approved grant of Rs. 9 Million for a project focusing on creating 3D Vision for handheld devices and funding for development of a Rs. 44.9 Million Augmented Reality based learning system is currently under consideration.
This is just the beginning, NIRF's management has aggressive plans to focus 10 key technology areas to fund in next 3 years and Virtual/Augmented reality is one of them. The Fund intends to give generous support and funding to the startups & researchers who want to work on AR/VR based technologies in order to solve local problems. Focus groups consisting of key stakeholders like researchers, startups, mentors and marketers are being created in order to get broader range of information so that effective funding models for future can be created. NIRF will also focus on supporting development of local content to be used for Education, Heritage, Archaeology and Tourism so that true benefits of this amazing technology can be extracted.
There are exciting prospects for Pakistan ahead and with right kind of synergized efforts of public and private sector we can become a key player in the international arena of technology development in virtual & augmented reality. NIRF is committed to play a pivotal role in that regard and will leave no stone unturned to make that goal a reality.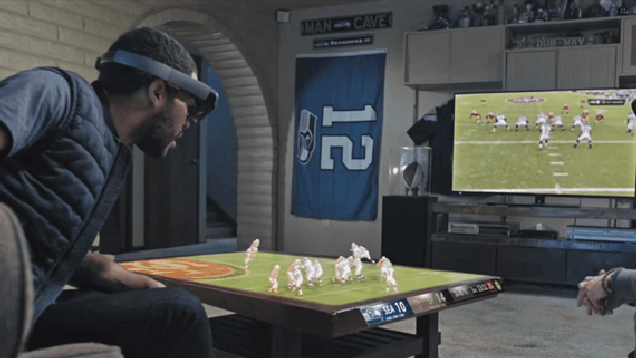 Glimpse of future of sports viewing
In the end, Virtual & Augmented reality and their related technologies have blurred the boundaries between real, surreal and unreal. Our oldest dreams of utopian states, heaven and world peace would be realized, all fictional characters would be brought to life and history would be replayed, with we as protagonists in it, all in virtual reality, which might be more real than what we believe to be real today. Our kids would accompany Alice on her way to the wonderland and like Alice, they might tell us when they come back.
"If I had a world of my own, everything would be nonsense. Nothing would be what it is, because everything would be what it isn't. And contrary wise, what is, it wouldn't be. And what it wouldn't be, it would. You see?"